Specialist Transport Publications are located in England for railway, shipping, road haulage, trams, and metro spotters worldwide

Major Railway Operators of America & Canada was published in June 2012 and is Compiled by John Burdett. This publication lists over 27,000 locomotives in operation. The arrangement of the listings is conducive to field spotters, concisely listing the locomotive numbers with former identities and data. A sample page can be seen here: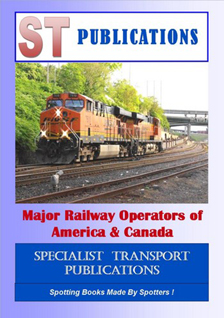 Enthusiasts anywhere in the World can order and payment can be made through PayPal.